Aries Sun / Taurus Moon
Alignment: Neutral Good
Four Temperments: Phlegmatic /w Melancholic
Enneagram: 6w5
Your rainbow is shaded
indigo and violet.
What is says about you: You are a creative person. You appreciate cities, technology, and other great things people have created. You are patient and will keep trying to understand something until you've mastered it. Friends count on you for being honest and insightful.
Find the colors of your rainbow at spacefem.com.
you are purple
#800080

Your dominant hues are red and blue. You're confident and like showing people new ideas. You play well with others and can be very influential if you want to be.

Your saturation level is very high - you are all about getting things done. The world may think you work too hard but you have a lot to show for it, and it keeps you going. You shouldn't be afraid to lead people, because if you're doing it, it'll be done right.

Your outlook on life can be bright or dark, depending on the situation. You are flexible and see things objectively.

the spacefem.com html color quiz
You were born during a Waxing Crescent moon
This phase occurs right after the New Moon, when we can start to see part of the moon that's illuminated by the sun.
- what it says about you -
You like having a clear vision of the future, and are good at helping people set out plans to accomplish important goals. Once you're done with a task, you're done with it. You don't like revisiting or rehashing issues you think are settled. You're inventive and encourage people around you to be new and different instead of copying from the past.
What phase was the moon at on your birthday? Find out at Spacefem.com

What Anime Season Are You?
Hosted By theOtaku.com: Anime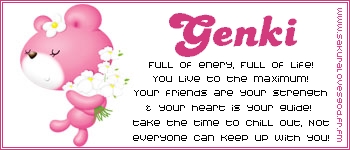 Take the Japanese word quiz!

Groundhogs are cuddly-looking and timid mammals that eat mostly grass, seeds, and other vegetation. As a groundhog you will rarely stray far from your burrow and will run in the face of danger, but you will defend their home fiercely from predators. Groundhogs are even given their own holiday in the US, during which a groundhog is said to predict how long winter weather will last!
You were almost a:
Lamb
or a
Bear Cub
You are least like a:
Parakeet
or a
Squirrel
Take the Cute Animal Test

I'm the moon card!
| | | |
| --- | --- | --- |
| Greed: | Medium | |
| Gluttony: | Medium | |
| Wrath: | Medium | |
| Sloth: | High | |
| Envy: | Low | |
| Lust: | Medium | |
| Pride: | Medium | |
Discover Your Sins - Click Here
The Dante's Inferno Test has banished you to the Fifth Level of Hell!
Here is how you matched up against all the levels:

Take the Dante's Divine Comedy Inferno Test

What Anime Flower Symbol Are You?
Hosted By theOtaku.com: Anime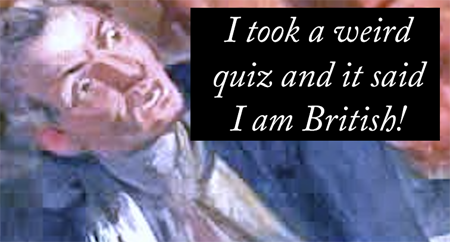 This weird internet quiz said I'm British! Wow
FUCK.